30 Neo-Futurist Plays from Too Much Light Makes the Baby Go Blind (30 Plays in 60 Minutes)
written by Greg Allen, directed by Emily Wessel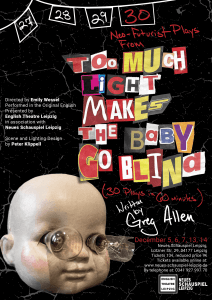 Too Much Light Makes the Baby Go Blind is a never-ending attempt to perform 30 plays in 60 minutes. Audience members help choose the order the plays are performed in an interactive evening filled with hilarity and bold statements. Read more here.
Show dates: Dec 5, 6, 7, 13, 14 (2019)
Tickets
Philoctetes
written by Sophocles, directed by Abigail Akavia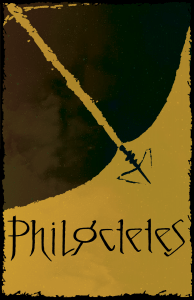 An ancient Greek play about lies, empathy, and the conflicting demands of heroism, Philoctetes asks us to what extent we are willing to acknowledge another person's pain. Language can ruin, especially when someone refuses to be "one of us"—but can it also heal? Read more here.
Show dates: March 5, 6, 7 (2020)
Due to COVID-19 we will be postponing our final performances. More information is available here.
Tickets