30 Neo-Futurist Plays from Too Much Light Makes the Baby Go Blind (30 Plays in 60 Minutes)
written by Greg Allen, directed by Emily Wessel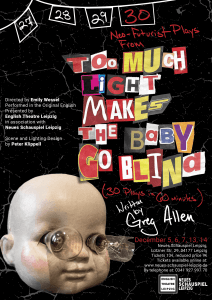 Too Much Light Makes the Baby Go Blind is a never-ending attempt to perform 30 plays in 60 minutes. Audience members help choose the order the plays are performed in an interactive evening filled with hilarity and bold statements. Read more here.
Show dates: Dec 5, 6, 7, 13, 14 (2019)
Tickets
Philoctetes
written by Sophocles, directed by Abigail Akavia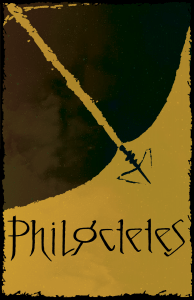 An ancient Greek play about lies, empathy, and the conflicting demands of heroism, Philoctetes asks us to what extent we are willing to acknowledge another person's pain. Language can ruin, especially when someone refuses to be "one of us"—but can it also heal? Read more here.
Show dates: March 5, 6, 7, 20, 21 (2020)
Tickets
Jerusalem
written by Jez Butterworth, directed by Laura Shann
Jerusalem is a raucous, provocative play that tells of a modern, mythic, English hero: Johnny 'Rooster' Byron. During the course of the Tony nominated play, Johnny tells tales, gets drunk, does drugs, dodges the authorities, and both charms and infuriates all that he meets. With Jerusalem, playwright Jez Butterworth spins his own darkly comic, modern take on the classic English idyll.  Read more here.
Show dates: September 2020